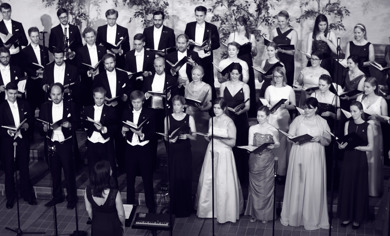 I vår framträder Allmänna Sången vid följande tillfällen:

18 mars - Kristina kyrka, Sala, kl 16.00
19 mars - Strängnäs Domkyrka, 18.00
21-23 april - deltagande i 14th international choral competition Gallus i Maribor, Slovenien
30 april Valborgsfirande på Uppsala slott
20 maj Vårkonsert i Missionskyrkan, Uppsala
6 juni Sommarkonsert i Bällinge
Femina Moderna på Spotify
Nu finns Allmänna Sångens senaste skiva, Femina Moderna, på Spotify. Skivan som släpptes hösten 2016 innehåller moderna verk skrivna av kvinnliga tonsättare.

Lyssna på Femina Moderna >>

The Winner of Allmänna Sången and Anders Wall Composition Award is
Anna-Karin Klockar
With her composition Speeches
The composition encompass three pieces of distinguished atmosphere with lyrics from three historical speeches. The jurys motivation:

"The winner masters to combine a brilliant selection of texts and mirrors them in three distinctive parts in a clear and fascinating way to form a comprehensive and contextual whole. Throughout the piece, and its rich composition techniques, the winner consistently uses the texts in an imaginative as well as humorous way. The composer creates atmospheric expressions by using syllables, especially in the ending of words, in a musically formidable manner. The composition is beautifully crafted and is a testament of the composer's professional appreciation of all voices and its ranges. The three very different parts are dramatic, humorous, and suspenseful in their simplicity, as well as exciting in their communication between the voices, the choir and the audience."

Anna-Karin Klockar about winning the prize:
"It´s a great joy for me that "Speeches" won and I would like to honor the authors of the speeches I have used and been inspired by. Could they ever imagine that their words would reach us, become music and live on this long?"

The award ceremony will take place in Uppsala, Sweden on the 14th of May 2016 during Allmänna Sången's annual spring concert, when the winning piece also will be premiered. The award consists of SEK 50 000 (approximately € 5 700), a diploma, and a publishing contract with Gehrmans Musikförlag AB.

Next time Allmänna Sången & Anders Wall Composition Award will be held is in 2018. More information about the next award will be announced later.

Mer information finns här.